NEWS RELEASE
MOLD-MASTERS® EXTENDS THE CAPABILITIES OF OUR E-MULTI AUXILIARY INJECTION PLATFORM BY INTRODUCING OUR NEW LARGER CAPACITY EM5 MODEL
Mold-Masters is proud to announce the introduction of our largest capacity E-Multi, the EM5. E-Multi is an all electric, servo driven auxiliary in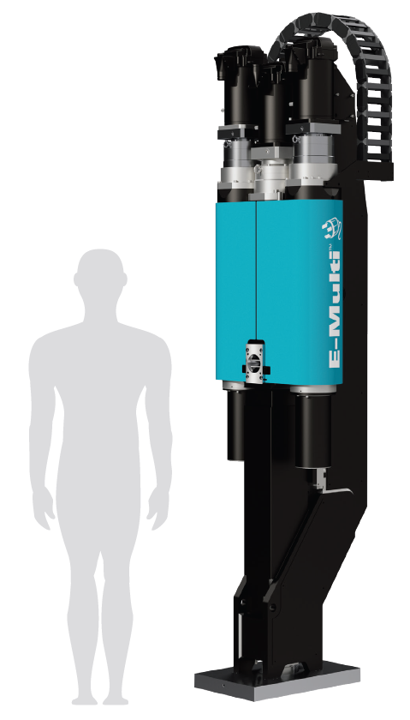 jection unit that offers proven precision, repeatability, versatility, and reliability.  This new unit extends the capabilities of our auxiliary injection units by offering an expanded shot range of 550g to 1,237g (18 - 42 oz). This larger capacity is well suited to the production of large individual components and high cavitation molds. Our EM5 model is expertly designed to meet the processing and capacity demands of your larger multi-material applications across a wide range of industries. Due to its size and weight, the EM5 is intended to be installed in a horizontal configuration as standard however an optional vertical installation package is available.
The E-Multi platform easily and economically converts any existing injection molding machine to allow for multi-shot, multi-material or co-injection capabilities that can be implemented with significantly lower capital investment requirements and faster lead times than a traditional multi-shot injection machine. E-Multi units are available EM1-EM5 which offers a broad shot range from 7.7g to 1237g (0.26 oz to 42 oz) and is compatible with a range of materials including PCR and Bio-Resins. An E-Multi LSR is also available.
If you're thinking large and would like to get more information, please contact us today at info@moldmasters.com or visit our website www.moldmasters.com/emulti
Mold-Masters is dedicated to maximizing the productivity of our customers by expanding their capabilities with E-Multi. 

 
– Dave Silva, Director of Product Management
About Mold-Masters
Mold-Masters is a leading global supplier of hot runners, controllers, auxiliary injection and co-injection systems. We design, manufacture, distribute, sell and service highly engineered and customized plastic processing equipment that caters to every market. Mold-Masters is credited for patenting the first commercially viable hot runner system in 1965. Today, Mold-Masters conducts business in over 100 countries and employs a diverse workforce that exceeds 2,150 professionals. Mold-Masters Global Headquarters is located in Georgetown, ON Canada.
Media Relations
Miki Bogar – Director, Global Marketing
905-877-0185 ext. 721
MBogar@moldmasters.com