NEWS RELEASE
MOLD-MASTERS INTRODUCES NEXT GENERATION OF FUSION PRE-ASSEMBLED HOT RUNNER SYSTEM INCORPORATING SIGNIFICANT ENHANCEMENTS DESIGNED TO SIMPLIFY MOLD DESIGN AND SAVE TIME.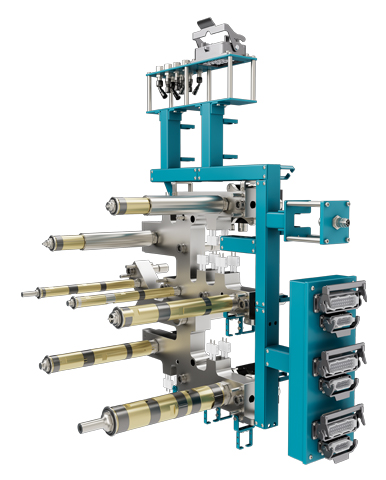 Mold-Masters is proud to announce the launch of our new Fusion Series G3 hot runner system. Fusion systems are shipped completely pre-assembled, pre-wired, plumbed and tested for fast, one-step installation. Mold-Masters FusionG3 system incorporates several major enhancements (over the previous FusionG2 system) that helps optimize mold design and simplify/speed up installation. These enhancements include
Reduced nozzle bore cut-outs
Protective nozzle sleeves (optional)
More compact actuators (PN and HY)
Quick change valve pins
Room temperature installation
Fusion Series G3 nozzles feature more compact nozzle bore cut-outs to help minimize tooling requirements and are available in customizable lengths up to 1,000mm. Fusion nozzles incorporate field replaceable heater bands and gate seals to ensure molders can respond and fix issues quickly on-site to minimize downtime. Most gate seals are interchangeable between G2 and G3 so customers are able to convert to the new system in many cases without any special retooling. New optional protective nozzle sleeves help prevent damage to the nozzle heater and thermocouple wiring during installation. Protective nozzle sleeves do not impact cut-out dimensions.
The new compact actuators minimize stack heights with cut-outs that are the same or smaller than G2. Anti-rotation and valve pin disconnect are now standard features. Compact actuators are available as either hydraulic or pneumatic. The position of air/hydraulic lines and cooling lines can be rotated to be set perpendicular or oriented different to one another to allow easier access when space is limited. FG3 actuators are also designed to accept Mold-Masters new Quick Change Valve Pins. Quick change valve pins feature an innovative new design that allows users to remove the actuator or valve pin independently from one another which simplifies and speeds up maintenance. Quick change valve pins can also be re-worked in the field (steel safe).
FusionG3 also has the advantage that it is engineered to be installed and uninstalled at room temperature. It can be pulled directly from the shipping box and placed into the mold. This helps to significantly reduce installation time, eliminate extra equipment such as a temperature controller and improve safety conditions during installation, assembly and removal.
Mold-Masters Fusion Series G3 hot runner systems are covered with an available industry-leading 5-year warranty.
For more information, please visit our website www.moldmasters.com/fusion-series-g3 or contact us today info@moldmasters.com
About Mold-Masters
Mold-Masters is a leading global supplier of hot runners, controllers, auxiliary injection and co-injection systems. We design, manufacture, distribute, sell and service highly engineered and customized plastic processing equipment that caters to every market. Mold-Masters is credited for patenting the first commercially viable hot runner system in 1965. Today, Mold-Masters conducts business in over 100 countries and employs a diverse workforce that exceeds 2,150 professionals. Mold-Masters Global Headquarters is located in Georgetown, ON Canada.
Media Relations
Miki Bogar – Director, Global Marketing
905-877-0185 ext. 721
MBogar@moldmasters.com