PRESS RELEASE
MODERNIZE YOUR PRODUCTION OF SINGLE-STAGE PET BOTTLES TO ENHANCE QUALITY AND INCREASE PRODUCTIVITY WITH MOLD-MASTERS® NEW AXIOM TG (THERMAL GATE) HOT RUNNER SYSTEM
Image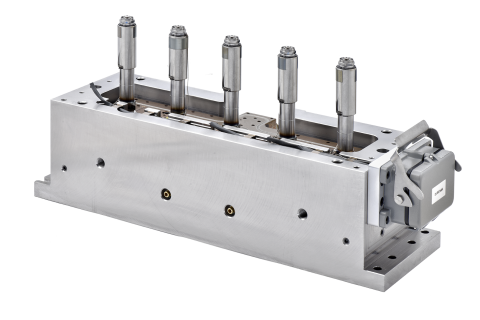 For those looking to modernize their single stage PET bottle production. Mold-Masters® has created the AXIOM TG (Thermal Gate) hot runner system, which is designed to meet the needs of single-stage PET molders. This hot runner system brings the latest processing technology to enhance molded part quality, increase productivity and lower cost per part. AXIOM TG is an economical direct replacement for many existing outdated hot runner systems and is compatible with all leading ISBM machines and molds.
Features include:
Incorporation of Mold-Masters proven iFLOW manifold technology

A new optimized, purpose-built nozzle design

Industry-standard gate-seal design
Benefits include:
Enhanced bottle quality and reduced scrap rate

Homogeneous melt delivery and rapid color change

Increased uptime and reduced maintenance costs

Retrofittable to existing molds
Proven iFLOW Manifold Technology
Image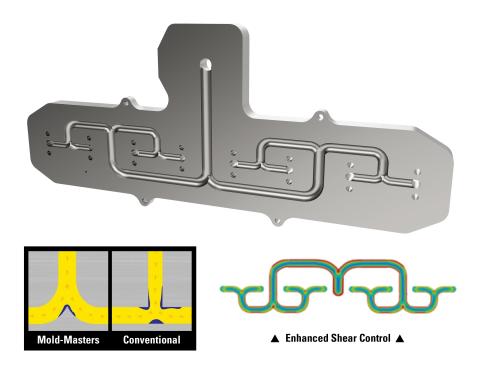 The processing advantages of Mold-Masters iFLOW manifolds have been proven in thousands of applications. iFLOW manifolds are
manufactured from two separate pieces of steel with the runner channels carefully milled from each half of the manifold. This allows Mold-Masters to incorporate melt-flow geometries, flow-path options and runner shapes that optimize processing performance beyond the limitations of traditional gun-drilled manifolds.
Homogenous Melt Delivery Provides Bottle-to-Bottle Consistency
The greatest obstacle preventing bottle-to-bottle consistency is non-uniform melt delivery. Most    single- stage hot runners rely on outdated technology that cause differences in residence time, shear history and melt temperature, resulting in non-uniform melt delivery. Non-uniform melt delivery through outdated manifolds produce preforms with inconsistent temperature profiles that stretch-blow into bottles with greater wall-thickness variation, such as side-to-side and top-to-bottom variability. The one-stage ISBM process requires the delivery of near perfect melt homogeneity to all cavities.
 iFLOW Manifold Technology achieves greater bottle-to-bottle consistency through optimized melt delivery technology:
Best in-class melt management provides critical processing capabilities for consistent high-quality part production

Industry-leading mold-fill balance from improved shear management

Smooth transitions minimize hang-up spots and dead spots, which allows for rapid color-change performance

Optimized runner diameters address pressure loss, residence time and shear rate

Enhanced temperature uniformity
New Axiom TG nozzles
The new AXIOM TG nozzle offers an excellent thermal profile to deliver precise and repeatable processing capabilities that enhance part quality. The nozzles incorporate individual nozzle heaters for individual temperature control. The nozzle heaters are also field-replaceable for quick and easy maintenance. The threaded nozzle base provides integrated leak protection. AXIOM's independent temperature control provides a wider processing window, faster start-up time and superior reliability compared to the outdated heater-less heat-pipe nozzles that are common in the industry.
New Industry Standard Gate Seals
The gate-seal design seals on the face of the cavity and is compatible with industry standard cut-outs. This allows the AXIOM TG to easily retrofit into many existing molds. The new gate seal features an easy-to-replace slip-fit insert liner and threaded gate-seal tip. The advanced thermal gate design reduces crystallinity in the gate and prevents stringing over a wide processing- temperature range.
Axiom TG (Thermal Gate) has been created to compliment Mold-Masters' existing Axiom VG (Valve Gate) system by offering a new economic option for molders who prefer the simplicity of thermal gates over valve gates and desire a higher level of thermal-gate performance over the limited options available on the market today. Axiom VG has been a proven solution in single-stage applications for more than ten years. 
For more information, please contact Mold-Masters today at info@moldmasters.com or visit www.moldmasters.com/axiom-tg
Mold-Masters® breathes new life into the single-stage PET market by introducing a new optimized hot runner design integrated with proven technology.
– Leo Devellian, Single-Stage PET Product Manager
About Mold-Masters
Mold-Masters is a leading global supplier of hot runners, controllers, auxiliary injection and co-injection systems. We design, manufacture, distribute, sell and service highly engineered and customized plastic processing equipment that caters to every market. Mold-Masters is credited for patenting the first commercially viable hot runner system in 1965. Today, Mold-Masters conducts business in more than 100 countries and employs a diverse workforce that exceeds 2,150 professionals. Mold-Masters Global Headquarters is located in Georgetown, ON Canada. Mold-Masters is an operating company of Hillenbrand (NYSE: HI). 
Media Relations
Miki Bogar – Director, Global Marketing
905-877-0185 ext. 721
MBogar@moldmasters.com
Click here to download high-res images:
Mold-Masters Axiom TG (Thermal Gated) Single Stage PET Hot Runner System