Does your food or beverage packaging need an oxygen barrier, light blocking, or carbon dioxide retention for extended shelf life? Are you molding a part that could be filled with regrind? Do you want to differentiate yourself on the shelf with aesthetic packaging by implementing color gradation, foaming or other effects in your package? If you responded yes, then co-injection technology could be right for your application.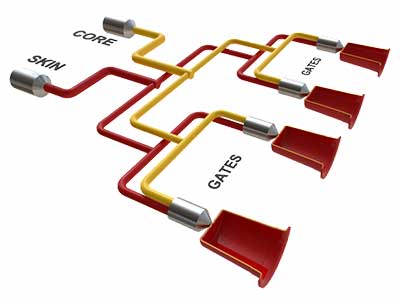 The co-injection molding process molds a plastic part with an outer skin and an inner "core". The skin material is typically a standard resin while the core in a food or beverage packaging application is typically a resin with barrier properties that prevents the permeation of oxygen, carbon dioxide, or moisture through the container walls. An application that is looking to reduce costs or weight and/or save virgin resin would typically use a "regrind" or recycled resin as a core with the skin material still having the desired appearance. Graduated color or other effects can be introduced in the core for aesthetic packaging applications for shelf differentiation.
A standard co-injection machine cell would have a multi-material capable injection molding machine with two injection barrels or a mono injection molding machine with an auxiliary injection unit for the 2nd material, a specialized hot runner system with nozzles equipped to deliver the two separate resins from the two injection barrels, and software for simultaneous melt stream control. Precise melt delivery via the hot runner nozzle is paramount to ensure the sufficient barrier layer delivery.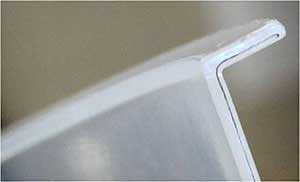 An efficient co-injection barrier system can deliver with the same high-volume production efficiency and cycle times as a standard monolayer injection molded part through simultaneous injection. With advancements in resin and barrier layer materials, excellent clarity can still be achieved for brand owners that desire a clear package.
Typical Food Packaging Co-injection Applications Include:
Thinwall containers and tubs, clear or colored
PET performs
Caps and closures
Dairy containers
Single-use coffee pods/capsules
Retortable clear plastic cans (Milacron Klear Can)
Medical applications – bottles, vials, etc.
Shelf Differentiation: aesthetic packaging, color gradation
Typical Resin Saving/Regrind Co-injection Applications Include:
Small and large buckets (paint containers, chemical, fluids, etc.)
Skids and shipping containers
Large automotive parts
The co-injection market has seen steady growth as brand owners and food packagers look to extend shelf life and molders look to enter the lucrative co-injection molding business.
Milacron has over 30 years of co-injection experience and over 100 systems in the field, 7,000 drops across a variety of market landscapes producing 12 billion parts in 18 countries. No other co-injection technology offering has the same experience.
Milacron offers two distinct Co-injection product offerings.
New Kortec® Connect Solution
The Kortec® Connect system offers customers the same patented, proprietary Kortec® co-injection hot runner designs and combines it with Mold-Masters proprietary E-Multi secondary injection unit, providing molders a cost-effective entry into co-injection molding. Milacron's highly specialized co-injection engineers work hand in hand with customers to customize the Kortec® Connect solution for their specific application. Our dedicated team of engineers collaborates with customers on their existing equipment via comprehensive system audits to optimize machine functionality.  Once completed, our team of engineers personally ensures that the system is up and running with their new co-injection capabilities.
Kortec® Complete Solution
Milacron will continue to offer the complete turnkey solutions under the Kortec® Complete brand for customers looking to purchase the industry's best complete co-injection system and generate the highest possible overall performance and output. Kortec® Complete offers customers the simplicity of a complete co-injection cell with a customized premium F-Series injection molding machine with 2 shot capabilities built right into the machine and the Kortec® hot runner melt delivery technology. With more complete co-injection systems in the field than all other competitors combined, Milacron is able to provide the industries' best engineering, system and service support.
For more information on co-injection visit: https://www.milacron.com/products/co-injection-molding/