News Release
January 5, 2021
RE: Mold-Masters New SeVG+ motor (SE108C) minimizes stack heights and simplifies mold designs.
NEW Proprietary Compact Motor Design
Mold-Masters 2nd generation SeVG+ servo motor is a compact direct drive design that minimizes stack height and simplifies mold designs. Compared to our 1st generation motor, the height has been significantly reduced by 48% (which now has an installed height of only 114mm). The footprint (108x108mm) is interchangeable with our hydraulic actuator for added flexibility. This motor design is compatible with our full range of valve pin diameters (2.0mm-9.5mm) and incorporates integrated water-cooling channels for high temperature applications. It is also compatible with molds utilizing magnetic clamps. Additionally, this revolutionary new motor design helps to greatly simplify mold design in several ways in order to enhance performance/reliability and minimize cut-out/spare part requirements. First, is that the motor is a direct drive design, meaning it does not utilize levers, gear boxes or other components to actuate the valve pin. This also allows for faster response rates (no delay) and more precise movements. Secondly, the motor has only a single cable connection (rather than separate power and encoder cables) which can also swivel 180°. This also minimizes cut-out requirements in the mold and speeds up assembly times. Lastly, the valve pin can be quickly and easily installed, or removed, without dismantling the motor from the hot runner system.
Mold-Masters SeVG+ (Servo Electric Valve Gate)
Superior process control for demanding applications. SeVG+ is a servo driven actuation system that provides absolute control and precision over individual valve pin opening and closing profiles. Fully adjust pin position, acceleration, velocity, stroke, timing and sequence. Critical capabilities that greatly enhances molded part quality by controlling resin flow that cause surface defects and other issues. Available for all molding applications including large automotive and optical lenses requiring class "A" surface finishes.
Improving Surface Finish
SeVG+ eliminates actuation variability and stabilizes the molding process. It enhances process control for filling parts in family molds, where runner layouts are not naturally balanced or where the application is highly technical. On large automotive parts for example, molding using traditional sequential injection methods can lead to several visual surface defects. These surface defects are caused by uncontrolled resin flow which results in an abrupt spike in cavity pressure during the filling stage.
SeVG+ helps prevent the following defects/issues by regulating the release of melt pressure into the cavity to help stabilize your molding process:
Pressure alteration marks

Pressure lines

Hesitation marks

Non-uniform pressure distribution

Reduced adhesion of finishes

And more...
Individual Servo Motors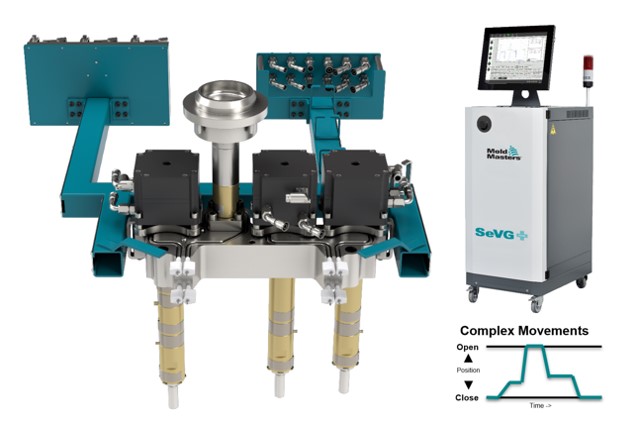 The key to the SeVG+ system is that each valve pin is individually controlled by its own dedicated servo motor. This offers the highest degree of precision and repeatability possible. Position control confirms that the valve pin is in the specific position as per the command and can actuate with immediate response times. On-The-Fly precision adjustments can be made in 0.01mm steps. SeVG+ servos are high powered to handle large part production and are suitable for processing demanding, rapidly freezing materials like PC where high closing forces are required for a proper gate seal. Servo motors have the additional benefit of having minimal maintenance requirements.
Capable of Complex Multi-Step Open/Closing Profiles
Optimize resin flow and balance to improve part quality. SeVG+ allows for a wide range of actuation control flexibility including complex movements within each cycle. This allows for superior control of the filling process as users can program up to 10 multi-step motion profiles (5 open / 5 closing) where each step can have individual set-ups. As the process is fine-tuned, users can also make full adjustments on-the-fly to any opening and closing actuation variable.
This includes adjusting pin velocity throughout each cycle. Programming these complex movements helps to eliminate visual imperfections like weld lines, hesitation marks and more.
Compatibility
Mold-Masters SeVG+ system is compatible with all Mold-Masters hot runner systems which includes Fusion-Series G2 (Drop-in system for medium to large parts), Dura+ (Automotive lenses), Master-Series (The benchmark in performance and reliability) and Summit-Series (Challenging resins).
About Mold-Masters
Mold-Masters is a leading global supplier of hot runners, controllers, auxiliary injection and co-injection systems. We design, manufacture, distribute, sell and service highly engineered and customized plastic processing equipment that caters to every market. Mold-Masters is credited for patenting the first commercially viable hot runner system in 1965. Today, Mold-Masters conducts business in over 100 countries and employs a diverse workforce that exceeds 2,150 professionals. Mold-Masters Global Headquarters is located in Georgetown, ON Canada.
Media Relations
Miki Bogar – Sr. Manager, Global Marketing
905-877-0185 ext. 721
MBogar@moldmasters.com