News Release
Aug 4, 2020
Mold-Masters is a global leader in the plastics industry. We design, manufacture, distribute, sell and service highly engineered and customized plastic processing equipment and systems. Our hot runners, temperature controllers, auxiliary injection and co-injection systems are utilized by customers of all sizes in every industry, from small local manufacturers to large worldwide OEM manufacturers of the most widely recognized brands. Over the course of our 50+ year history, we've built our reputation on delivering the best performance through our broad range of innovative technologies that optimize production to enhance molded part quality, increase productivity and lower part cost. Unlock your operations' full potential with Mold-Masters. That's "Performance Delivered".
RE: Mold-Masters NEW MasterSHIELD Leak Protection Technology is Extended to ALL Packaging Hot Runner Solutions as Standard Feature
 
Mold-Masters MasterSHIELD Technology – Enhanced Leakage Protection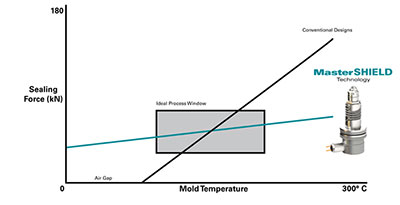 Mold-Masters MasterSHIELD Technology is an innovative patent pending spring design that pre-loads the nozzle to the manifold. This enhanced sealing feature offers greater production reliability through enhanced leakage protection during cold start-ups and in the event of accidental overheating. MasterSHIELD Spring Design has a much wider and more reliable range of operation that minimizes excessive load on the entire stack. 
The robust design maintains a more consistent sealing force which minimizes the risk of plate deflection/bowing +/- 100°C (180°F) from processing temperature. This also allows for relaxed tolerances on plate manufacturing for mold makers
Mold-Masters MasterSHIELD Technology can be found as a standard component on Mold-Masters packaging hot runner solutions which includes SPRINT (Lightning Fast Cap & Closure) hot runner systems and ThinPAK-Series (High Pressure Thin Wall Packaging) hot runner systems.
NEW SPRINT with MasterSHIELD Technology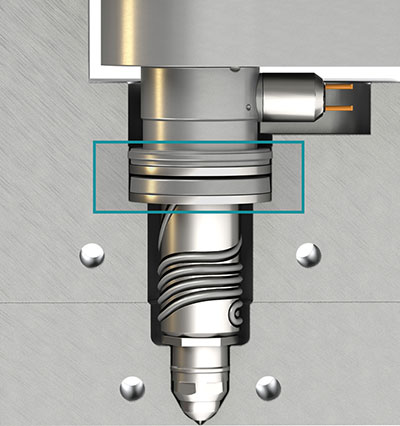 Mold-Masters Sprint hot runner systems, which are optimized for reliable high-speed molding of caps and closures, now incorporate MasterSHIELD Leak Protection Technology as standard. Sprint systems produce millions of parts on a daily basis and are known for producing high quality parts with fast cycle times (as low as 2 seconds – application dependent), rapid color change performance, industry leading mold fill balance and low energy consumption. Sprint hot runner systems are commonly utilized to produce lightweight caps (ex: 26mm < 1gr), 28mm CSD caps as well as 38 and 48mm juice closures. Sprint hot runner systems also feature industry standard gate cut-outs and high cavitation designs to maximize productivity.
RE: Mold-Masters Introduces Accu-Valve GX, Providing Simplified Maintenance for Premium Valve Gates
 
Mold-Masters Accu-Valve – Achieve the highest quality gates, reliably, for millions of cycles.
Accu-Valve Premium cylindrical gates feature Continuous 360° Pin Guidance in close proximity to the gate for precision gate component alignment that does not require direct reliance on cavity steel. This advanced design significantly minimizes wear of the gate and valve pin that leads to gate quality deterioration. By maintaining these critical high tolerance dimensions and concentricity, Accu-Valve enhances reliability and extends service life. 
The result are high quality gates for millions of cycles. Avoid the costly maintenance and downtime associated with traditional valve gate designs. Accu-Valve meets the demanding needs of many Medical, Packaging, Personal Care and many other applications. Accu-Valve is available in 3 versions MX (Enhanced Fill Balance), CX (Color Change) and NEW GX (Simplified Maintenance). Accu-Valve gates are available with Mold-Masters 3 Million Cycle (1-Year) warranty.
NEW Accu-Valve GX - Simplified Maintenance (Replaceable Gate Insert)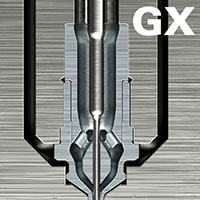 Mold-Masters Accu-Valve GX is a new addition to the Accu-Valve premium cylindrical valve gate family that features a replaceable gate insert (with integrated valve pin guide) that significantly simplifies maintenance. This design provides molders with an easy to replace component which eliminates traditional gate hole rework/welding or having to worry about matching tight tolerances. Molders can just reorder the gate insert which significantly minimizes downtime and allows for maintenance costs to be much more predictable. 
The compact Ø3mm OD tip (1.0mm gate) can fit on a wide range of parts. Although this gate design will produce a double witness ring, since tip contouring and texturing is possible, the visual impact of the ring can be minimized on the part surface. 
Accu-Valve GX is recommended for Commodity/Polyolefin resins (PP, PE, TPE) and is suitable for packaging and other similar applications (including those which are fast cycling).
Accu-Valve GX is compatible with Mold-Masters Master-Series and Summit-Series hot runner systems with using nozzle sizes Femto to Centi (5g to 50g).
RE: Mold-Masters Fusion-Series G2 Product Enhancements Maximizes Hot Runner Uptime, Simplifies Maintenance and Lowers Operating Costs
 
Mold-Masters Fusion-Series G2 Hot Runner Solutions – Drop-In, Connect and Inject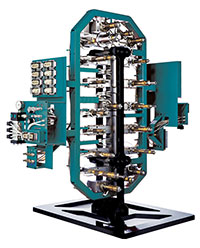 Maximized for uptime, Mold-Masters Fusion-Series G2 hot runner systems are shipped completely pre-assembled, pre-wired plumbed and tested. Fast, one-step installation that requires up to 70% less time to assemble and install. Incorporating popular features like field replaceable heater bands ensures that any maintenance is quick and easy. Fusion Series G2 hot runner nozzles are available in lengths up to 1m and are capable of shot sizes from <15g to over 5,000g+ (per gate) giving it the capacity to produce a wide range of molded parts from smaller underhood components, technical automotive components, price sensitive packaging and consumer goods to large automotive components like Bumpers, Grills, Fascia's, Instrument Panels, Door Panels, Pallets and large white goods. Fusion-Series G2 hot runner systems are supported by Mold-Masters global aftermarket network which includes rapid spare part supply.
NEW F3000/F4000 Nozzles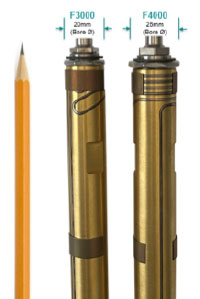 Mold-Masters is proud to announce that a new generation of our smallest FusionG2 nozzles are now available for your applications. We have been able to successfully reduce the OD of these nozzles by up to 30% while maintaining the same runner channel diameter (no loss of capacity).
F3000 (<15g) - New Bore Ø 20mm, Original Bore Ø 28mm (30% reduction).
F4000 (15-50g) - New Bore Ø 25mm, Original Bore Ø 30mm (17% reduction).
These more compact designs allow for significantly improved gating access and design flexibility on technical applications. This has been achieved by incorporating a new compact heater sleeve design which has the added benefit of protecting electrical wiring which prevents accidental damage from handling or installation. Cold hot runner installation is now feasible with the Fusion Series G2 3000/4000 nozzles (they can be installed in cold conditions). There is no change to gate seals, actuators or runner channels compared to previous F3000/4000 nozzles. All Fusion Series G2 nozzles are eligible for Mold-Masters 5-Year Warranty.
NEW HY Waterless Actuators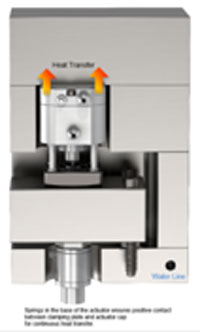 In 2018, Mold-Masters introduced its PN Waterless Actuator which featured Passive Actuator Cooling Technology  (PACT). These advanced, patent pending actuator designs transfer heat to the top clamp plate which eliminates conventional hose plumbed cooling circuits. Benefits to the molder includes faster mold changes as there are less components to manage. Molders can simultaneously shut-down the mold cooling and the hot runner without worry of damaging the seals. It eliminates issues associated with clogged cooling circuits for extended production reliability. It also enhances hot runner safety at pre-heat stations.
Today, Mold-Masters is proud to announce that a Hydraulic version is now available. This new unit is compatible with all sizes of Fusion-Series G2 nozzles (F3000-F8000). It is available in either 10, 12.5 or 25mm stroke options and has a compact cut-out which minimizes tooling requirements and provides design savings. Both the existing PN and new HY waterless actuators feature valve pin height adjustment and are available with anti-rotation.
NEW HY Adjustable/Quick Release Actuator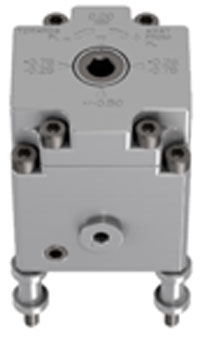 Mold-Masters is proud to announce the first actuator design to combine both features into one unit. The valve pin can be easily adjusted which significantly simplifies the process of fine-tuning tapered valve pin length to the gate (optimizing gate quality).
The valve pin Quick Release Mechanism allows the valve pin or actuator unit to be removed independently from the other which can be done in only a few minutes. The need to drain hydraulic fluid has been ELIMINATED saving a significant amount of downtime (up to 1 shift). Adjustments or Quick Release requires no special tools or disassembly. The unit includes Anti-Rotation as standard and is compatible with Fusion Series G2 (F4000-F6000) nozzles.
About Mold-Masters
Mold-Masters is a leading global supplier of hot runners, controllers, auxiliary injection and co-injection systems. We design, manufacture, distribute, sell and service highly engineered and customized plastic processing equipment that caters to every market. Mold-Masters is credited for patenting the first commercially viable hot runner system in 1965. Today, Mold-Masters conducts business in over 100 countries and employs a diverse workforce that exceeds 2,150 professionals. Mold-Masters Global Headquarters is located in Georgetown, ON Canada. 
Media Relations
Miki Bogar – Sr. Manager, Global Marketing
905-877-0185 ext. 721
MBogar@moldmasters.com