PRESS RELEASE
MOLD-MASTERS® SUSTAINABLE CO-INJECTION PCR CAPABILITIES HAVE EXPANDED TO INCLUDE SMALL TO MEDIUM CONTAINERS AND PRODUCTS.         
Image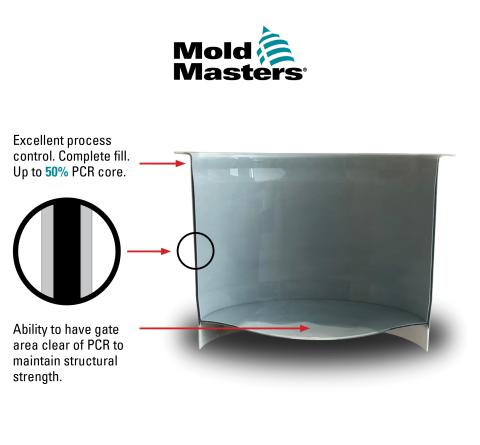 Mold-Masters is dedicated to offering solutions that support our customers sustainability efforts. Mold-Masters has demonstrated how its equipment can be used by molders to inject up to 50% of total part weight with Post-Consumer Recycled (PCR) material as a means to minimize cost per part (save on virgin material and concentrates) and help our customers meet their sustainability targets. Now, the technology has advanced to include compatibility with smaller containers and products with weights as low as 5g. Previously co-injection PCR was only compatible with larger packaging up to 950g such as 5 gal (20 L) pails.
When it comes to PCR and sustainable applications, Mold-Masters has proven capabilities. Utilizing our industry-leading co-injection multi-layer technology, we have the ability to combine 2 separate resins into a single 3-layer melt flow. This enables our customers to inject high PCR content as the core layer up to 50% of total part weight.
What sets Mold-Masters co-injection apart is our leading-edge control, which allows us to precisely control distribution and thickness of the core layer. This is what gives us the ability to inject up to 50% PCR core and enables our customers to maximize sustainability targets and implementation ROI on their application.  
This sustainable processing solution has the potential to generate significant savings for the molder (based on current prices) by reducing the use of virgin material. These significant savings and favorable ROI mean that sustainability initiatives can also make good financial sense.
Our precise uniform leading-edge control allows Mold-Masters to achieve more consistent and fuller core fill. Mold-Masters patented "fold-over" capabilities is a technical advantage that enables us to achieve the highest core percentage and allows us to ensure uniform distribution and complete coverage of PCR resins which prevents contact of PCR with product.
Another significant difference is that we give molders the flexibility to position the core where they want it. For example, on packaging applications customers may prefer to keep any PCR core away from the injection point to avoid molded in stresses which can cause brittleness and result in drop test failures.
One of the major advantages of Mold-Masters Co-injection technology is that there is typically no penalty to cycle time or part quality, and in many cases, molders can reuse their existing tooling (minor modification may be required). A variety of resin materials can be combined although those with similar melt temperatures are ideal for compatibility. Many applications are those that utilize the same material (ex: 50% virgin HDPE, 50% PCR HDPE). However, our thermally isolated manifolds make it possible to combine two thermally different resins.
Mold-Masters makes implementing this into your application simple and economical with our Co-injection CONNECT package. This package includes an E-Multi auxiliary injection unit which allows our customer to convert any injection molding machine to co-injection. The package also includes the co-injection hot half, process control, engineering, and start-up support. If you're interested in adopting sustainable processing solutions, feel free to reach out to us at info@moldmasters.com to discuss your application today.
About Mold-Masters
Mold-Masters is a leading global supplier of hot runners, controllers, auxiliary injection and co-injection systems. We design, manufacture, distribute, sell and service highly engineered and customized plastic processing equipment that caters to every market. Mold-Masters is credited for patenting the first commercially viable hot runner system in 1965. Today, Mold-Masters conducts business in over 100 countries and employs a diverse workforce that exceeds 2,150 professionals. Mold-Masters Global Headquarters is located in Georgetown, ON Canada. Mold-Masters is an operating company of Hillenbrand (NYSE: HI).
Media Relations
Miki Bogar – Director, Global Marketing
905-877-0185 ext. 721
MBogar@moldmasters.com