NEWS RELEASE
MOLD-MASTERS INTRODUCES NEW SPECIALIZED PET-SERIES HOT RUNNER SYSTEM FOR PRODUCING HIGH-QUALITY PET PREFORMS
Mold-Masters new PET-Series hot runner system delivers consistent high-performance processing capabilities for exception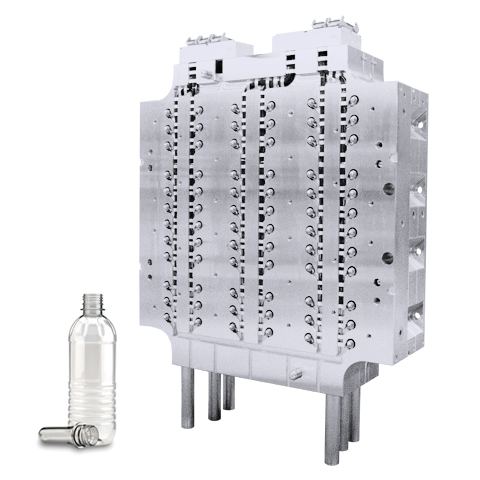 al preform quality. As always, Mold-Masters is focused on increasing your productivity, enhancing reliability, and lowering part costs.  
Our PET-Series hot runner gives the customer the ability to fill thinner preforms (light weighting), to save resin thanks to better HR balance and less variation in preform weight, reduction in cycle time due to faster fill time and a wider process window along with a reduction of AA content.
We achieve this great performance with the industry leading iFLOW Manifold Technology. Our proven 2-piece manifold designs incorporate patented melt flow geometry, flow path options and runner shapes that allow our engineers to optimize performance to your application. In addition, we are also introducing a new PET-Series Nozzle with improved thermal profile, field replaceable heater sleeve and industry standard gate design. PET-Series nozzles also incorporate new MasterSHIELD Technology for enhanced leakage protection between the nozzle and manifold even during cold start-up.
PET-Series hot runner systems are compatible with any major brand of PET-preform mold.
For more information, please visit our website www.moldmasters.com/pet-series or contact us today info@moldmasters.com
About Mold-Masters
Mold-Masters is a leading global supplier of hot runners, controllers, auxiliary injection and co-injection systems. We design, manufacture, distribute, sell and service highly engineered and customized plastic processing equipment that caters to every market. Mold-Masters is credited for patenting the first commercially viable hot runner system in 1965. Today, Mold-Masters conducts business in over 100 countries and employs a diverse workforce that exceeds 2,150 professionals. Mold-Masters Global Headquarters is located in Georgetown, ON Canada.
Media Relations
Miki Bogar – Director, Global Marketing
905-877-0185 ext. 721
MBogar@moldmasters.com